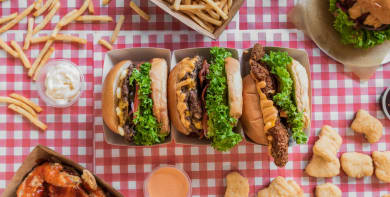 Reviews
Katarzyna
"For us this is the best burgers in Dublin. Hot chicken wings also delicious."
10/04/2022
Bill
"Hot damn, one of the best burgers I've ordered in a very long time, juicy, tasty, various flavours...I should have ordered 2 though 😋"
04/03/2022
Seb
"would recommend it , all the food was brilliant"
27/02/2022
Andy
"Food was great as always, but the chicken nuggets have changed (they are now breadcrumbed) and not as good."
18/02/2022
Menu
Contact Us
Find Us
1 North Street, Dublin, ONGAR
Opening Hours
Please note, delivery times may vary.
We deliver to
Abbotstown, Ballycoolin, Blanchardstown, Blanchardstownabbotstown, Blanchardstownblakestown, Blanchardstowncoolmine, Blanchardstowncorduff, Blanchardstowndelwood, Blanchardstownmulhuddart, Blanchardstownroselawn, Blanchardstowntyrrelstown, Cappagh Road, Carpenterstown, Castleknock, Castleknockknockmaroon, Castleknockpark, Clonee, Clonee (Dublin), Clonsilla (Dublin), Corduff, Damastown, Dunboyne, Hartstown, Hollystown, Laurel Lodge, Leixlip, Littlepace, Lucan, Lucan Heights, Mulhuddart, Northwest Business Park, Ongar, Palmerston, Palmerstown, Phoenix Park Racecourse, Porterstown, Roselawn, Strawberry Beds, The Ward, Tyrrelstown